Stop listening to the WRONG people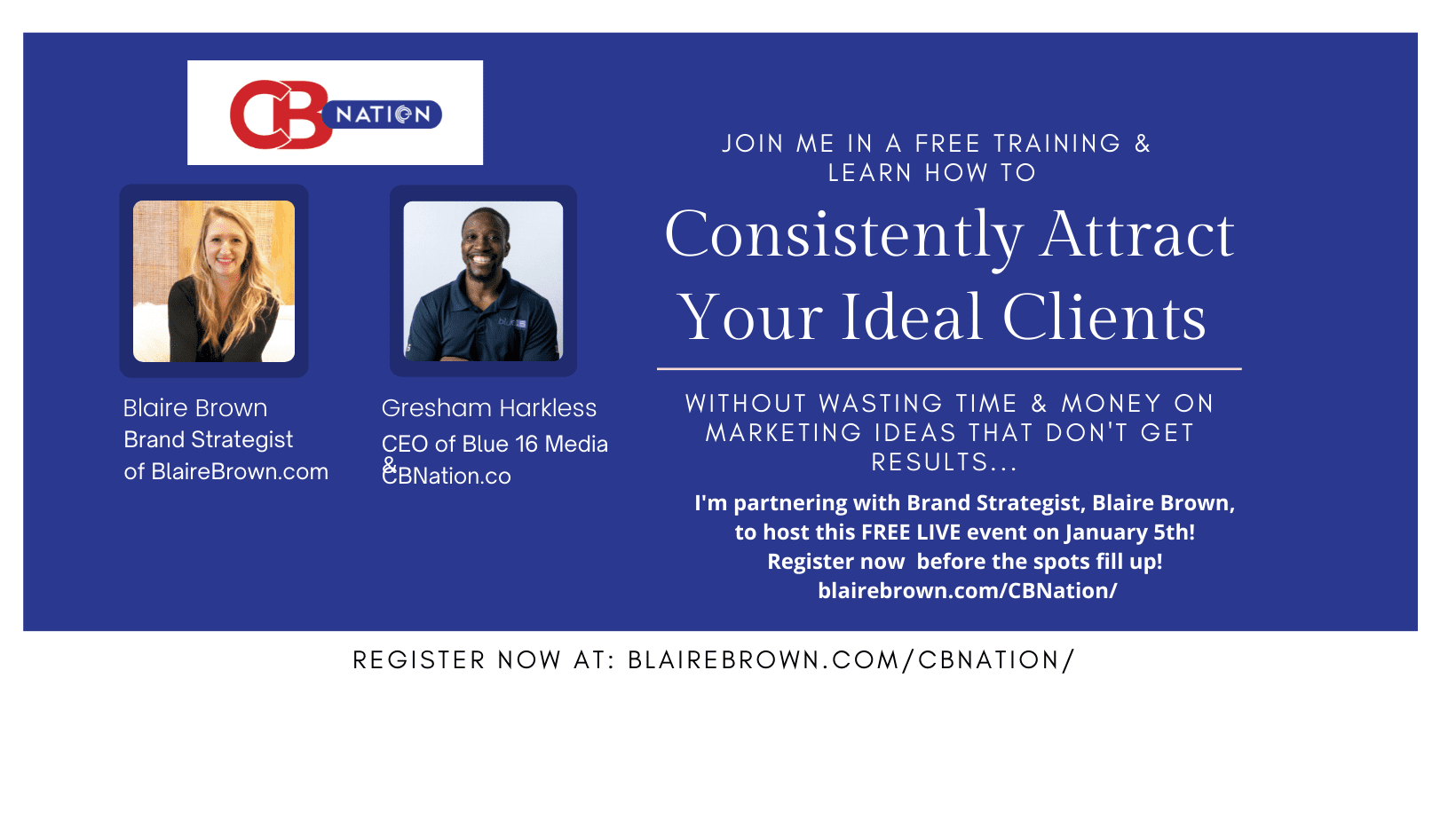 Short on time? I'm hosting a FREE class with Brand Strategist, Blaire Brown, specifically for new entrepreneurs like you, on how to consistently attract your ideal clients without wasting time and money on marketing strategies that don't get results… and YOU are invited! Click here to sign up.
Last year Blaire did something that completely changed the trajectory of her business.
…she STOPPED listening to the wrong people.
There are business gurus who believe the key to getting more clients/customers and making more money is to:
…Work harder
…Longer hours
…Throw any and all ideas online just to have new content
…Spend MORE time on social media
My friend Blaire & I completely disagree with this mentality.
Going "all in" ALL the time is just a recipe for burnout. 
I used to believe that success happened in the hustle. I just knew the harder I worked, the more money I would make and I would finally have that successful business I dreamed of. 
But all that does is fast-track your body to essentially shut down from the exhaustion, stress and lack of self-care.
Blaire decided to make a HUGE change and discovered the business secret that no one was teaching – a systematic approach to online business that allows her to save TIME by putting the right foundation into place from the start. 
That way she could focus on attracting the right people and represent her brand in a professional way from the start. No more wasted time on strategies that don't get results! 
The core of that system is the 3-part Consistent Client Connection Method which Blaire will be highlighting LIVE on January 5th, 1 PM EST. 
Blaire will be covering this exact approach in her training about how to consistently attract your ideal audience without wasting time & money on marketing strategies that don't get results. 
And…. she's also giving away 2 freebies at the end for fast-action takers– and these bonuses pair perfectly with her method she'll be going over in the free training: 
 

DIY Business PR Guide

which will teach you how to pitch your own brand to editors and land impressive media placements without having to hire an expensive agency. 

She's also giving away a

Visual Branding Audit Checklist

as a bonus so you can make sure your branding is on-point and effective in attracting the right people from a visual perspective. Visuals can make or break your ideal clients going from being a "maybe" to a "yes!" 
Sounds awesome, right?! The training is absolutely free— so save your spot now!
Bring your questions, a notepad and an open mind! 
This will change EVERYTHING when it comes to how you approach your business's branding efforts to reach your dream clients. 
See you soon!
Gresham Harkless